Müsahibə - Michael Conrad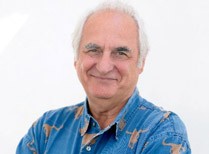 Michael Conrad has been one of the most prominent figures in the world of advertising of the past 40 years. His rich experience led him to the perception that creativity is a general principle of work in various professions.
In 1975, he co-founded Lürzer, Conrad Frankfurt, which merged in 1980 with Leo Burnett Germany. In 1982, the agency was renamed Michael Conrad & Leo Burnett.
In 1986, he moved to Chicago as President and Chief Creative Officer of Leo Burnett International and in 1996 was named Vice-Chairman and Chief Creative Officer of Leo Burnett Worldwide. In 2000, Advertising Age named Leo Burnett Worldwide 'Global Agency of The Year'. In 2001, Leo Burnett Worldwide got the title of "Most Awarded Agency in the World" by the Gunn Report. Michael retired from Leo Burnett at the beginning of 2003.
Michael has chaired many juries in local, regional and global advertising festivals and is an honorary member of the Art Director Clubs of Germany, Austria and Europe. With the ADC Germany he founded the "Berlin School of Creative Leadership" (www.berlin-school.com) at Steinbeis University and serves as its president. He lives in Zürich, does some consulting in marketing and communication, and is a member of the BOD of Spillmann/Felser/Leo Burnett in Switzerland.
Mak.az: "Big ideas come out of big pencil" – is this idea still actual in the world advertisement trends? Could the pencil be replaced by a computer mouse?

Michael Conrad: Ideas obviously come out of peoples heads. It's a phrase used at Leo Burnett. To create "Big ideas" was Leo's credo and Leo himself wrote with a this big, fat Alpha 245 pencil, which became the company pencil and ultimately the phrase you mentioned was created to remind our folks what those pencils function should be. Creating big ideas is the ad industry's reason for being. And no matter how big a computer or a mouse is, our brains remain to be the source.


Mak.az: You have been born in Germany, which is positioned in the world more likely as a car producer, rather than a creative advertisers' country. How did you happen to get engaged in creative field of business?

Michael Conrad: There is Hollywood and Wim Wenders. There is Pret A Porter and Karl Lagerfeld. What's wrong with German engineering in advertising?

Mak.az: Is the creativity a skill which should be gained through experience or just a gift?

Michael Conrad: Good admen/women are Salesmen Poets. You can learn both and bring it together.

Mak.az: What is a good advertisement for you?

Michael Conrad: First of all it has to function like a receipe. Any ad that does not "show the way" to something fresh, new, better for life and things has zero quality. Second its quality grows if the people chosen for communication want to see or hear it again - and today even more - share it.

Mak.az: How do you measure as a professional an ad work to be effective or not?

Michael Conrad: If you want to measure the effectiveness of ads - you have to run them. To have an opinion before you run ads we've created at Leo Burnett "7plus", a 10 point scale to judge qualities. Qualities you want to reach for, those you want to avoid and those you need to practice in order to avoid or reach for. Here we go: 1 appalling, 2 destructive, 3 not competitive, 4 cliché --- 5 innovative strategy, 6 fresh idea, 7 excellence in craft ---- 8 new standard in the category, 9 new standard in communication, 10 best in world bar none.

Mak.az: When you get started for developing ideas for ad campaign, where do you start?


Michael Conrad: I like to start with the goal. And to lay the tracks to this goal we established a "Startwork Meeting" with the core brand group.

Mak.az: There were Epica and Eurobest as European Ad festival. Then Golden Drum was established, positioning itself as a festival for Eastern Europe. What is PIAF's goal? To be a Central European festival?

Michael Conrad: Marek should answer )))

Mak.az: The winners of the ad festivals get a good PR opportunities. What are the benefits for the other participating agencies?

Michael Conrad: Let's assume an ad festival has a thematic focus and has gained respect over time through their relevance, quality of their juries, participation and so forth, you want to compete with your work, your want to win, but you also want to learn, get inspired, get your agency and its people famous.

Mak.az: You have huge experience in chairing as a jury member and chairman. Do jury members try to understand local context of ads or just vote for universal ideas that is clear for everobody?

Michael Conrad: In global juries at global festivals universal ideas have a better chance to win. But sometimes those juries have a lot of appetite to explore ideas rooted in local culture or based on local insights.


Mak.az: Do you consider it fair that vast majority of winners are universal ideas, although in most cases clients seek a local insight?

Michael Conrad: Take Uniclo's "Uniclock" idea. Yes, it is very fair to have a universal idea that works globally. But to answer your question a bit better, all depends on what you want your goal is and what audience you want to reach with the resources you have. In most cases your audience is local and the more you connect and bond with your "chosen audience" the better.

Mak.az: Do you see a danger of negleting the client's commercial interest in an effort to win at the ad festivals?

Michael Conrad: You have to serve your clients interest to the fullest in the first place. But think about the "Oscars". If anybody in the film industry would give a shit about winning an Academy Award he or she should not be in this business. The jury represents the "high court" of the industry. If they applaud it means the work has a standard of its own.

And that's where a brand wants to be. At Leo Burnett we researched over 18 years four times the same question "Does Award Winning Advertising Sell Product".

You bet it does. When we presented in 2002 the consolidated findings to P&G, they decided to attend "Cannes". And they do so since.

Baxılıb: 10022