Müsahibə - Jacco Stolker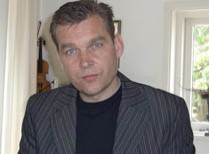 Jacco Stolker has been involved in the field of marketing and business training for over 25 years altogether. He worked for Royal Dutch Army, Amsterdam University for Professional Education and various organizations in the Netherlands as consultant, manager and trainer. He also gave lectures in universities of the Netherlands, Estonia, Russia, Ukraine, Moldova, etc. At the moment he is the director and main share holder of ETCN BV, a company specialized in higher education in Central and Eastern Europe and Central Asia. J.Stolker specializes on product development and implementation, marketing and marketing communications trainings, training of trainers, innovation of education, implementation of quality control in education and developing of educational standards.


Shortly about Nima A program. What advantages it gives to marketers?
It gives many advantages to the marketers. First of all it is the only European qualification program in Azerbaijan. It gives marketers the possibility to get an international recognized and accredited diploma based on European standards for marketers.
One other big advantage is that our education is focussed at development of competences. We strongly believe that knowledge alone is not enough for a marketer. A marketer needs beside good knowledge also several skills and personality aspects that are related to the job. This so called competences we integrate in our programs from the very beginning.
Besides that our education is focused at the practical working situation of the participants of the courses. Theory is applied in the current day working situation of the participant. This has big advantages for both the company that people are working for as well as for individuals.
To the question on improving the marketing skills 29% of Voters answered that to visit marketing oriented sites and participating in different online forums is more effective than trainings and courses. 27% are in favor of trainings and 24% are in favor of books. The remained 18% are thinking it is enough to read magazines, visiting conferences and universities for developing marketing skills. What you are thinking?

These are interesting figures! It tells a lot the quality of the marketing training courses that are in the market at this moment. Most of these trainings provide people with abstract stories and nice theories but nobody explains how the theory should be used. People leave the training maybe with short term enthusiasm but at the moment it comes to practical implementation, the problems start.
Our concept of education is focused at the implementation of modern marketing techniques so that people immediately experience the advantages of the concept.

Are you satisfied with level of Azerbaijani marketers?
I think it is not important if I am satisfied with it. The key question is if the current business environment is satisfied about the level of the Azerbaijani marketers. During my visit in Baku I spoke with several (vice) Chairmen, CEO's, and CMO's. What I hear from them is uniform: "it is very difficult to find a competent marketer in Azerbaijan". There is an enormous demand for good marketers but unfortunately what graduates from universities with marketing in their curriculum, does not meet the demand of the business environment.
The differences in Europe, US and Asia marketing?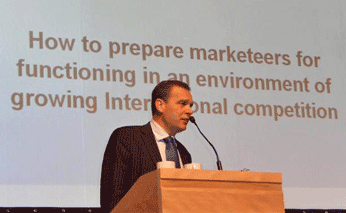 The differences are big. Basically Europe and the US are at comparable level of professionalism in marketing. What I have seen in Eastern Europe and Central Asia is that marketing is in another stage of development. Not a surprise because not long ago marketing did nearly not exist in these countries. Besides that the internet penetration grade in these countries is much lower than in Europe or the US. The function of marketing is not developed, compared with Europe and the US. Marketing is in many countries equivalent to sales. Marketing managers are not members of the management team or the board, etc. Marketing has a way to go in Eastern Europe and Central Asia. We try to support the development of marketing with our activities.
Importance of Internet in marketing development?
Essential. Internet is from many viewpoints more and more playing a key role in marketing. Although in Azerbaijan the situation differs from Europe, internet is also in Azerbaijan essential. Just a simple example: To prepare for my trip to Baku I tried to find book an apartment in Baku city by internet. That was quite difficult and actually a bad experience.
Internet creates possibilities for consumers and companies. Internet makes the market more transparent and gives consumers possibilities to exchange information and experiences on products, services and companies. For companies it is a cheap way for marketing communication activities.
There is much more to mention. Take for instance the growing role of social networks that connect professionals worldwide with each other.
New marketing methods, Guerrilla, WOMM, Viral marketing, are they effective?
They are, when used in the proper way. You mention all new methods of integrated marketing communications that can work. There are many examples of perfect viral marketing, Buzz marketing (or worth of mouth marketing) and guerrilla marketing. The current generation of consumers is increasingly sceptical about tradition forms of marketing communication. When friends tell them about a product or a "trendsetter "uses a product, they are more willing to accept a brand, product or service. Besides that, if a brand is able to create an image related to the expectations of people, for instance by a well balanced viral marketing campaign, supported by other means of media, the brand will see the positive result of it.
Again I would like to stress that careful use of these tools is essential. There are many positive examples of companies who used these tools but also many companies failed.

Baxılıb: 6340